You Are Invited
Visitors are always welcome at all Bromeliad Society meetings and events. Please see the "Join Us" box for more information.
2016 Show & Sale
Kay Weber and Judy Herman, longtime members of SBS, pooled their resources to win the auction to name a Ray Lemieux cross between the Brazilian Encholirium horridum with the Mexican Hechtia rosea. They plan to call it x Enchotia 'Kay Judy'. Ray will register the name with Bromeliad Society International.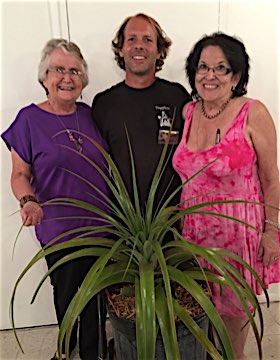 Kay Weber, Ray Lemieux, Judy Herman with x Enchotia 'Kay Judy'.
Meeting Dates: 2016
7:30 pm, Monday, January 11, 2016
7:30 pm, Monday, February 8, 2016
7:30 pm, Monday, March 21, 2016
7:30 pm, Monday, April 18, 2016
7:30 pm, Monday, May 16, 2016
7:30 pm, Monday, June 20, 2016
7:30 pm, Monday, July 18, 2016
7:30 pm, Monday, August 15, 2016
7:30 pm, Monday, September 19, 2016
7:30 pm, Monday, October 17, 2016
7:30 pm, Monday, November 21, 2016
7:30 pm, Monday, December 19, 2016