You Are Invited
Visitors are always welcome at all Bromeliad Society meetings and events. Please see the "Join Us" box for more information.
2016 Show & Sale
This year's Show and Sale will take place on the weekend of Friday, September 9th, thru Sunday, September 11th. For details please visit our Shows page.
Show and Sale Bonus
How would you like your name to live forever?
As part of its 2016 Bromeliad Show and Sale, a newly created Bromeliad (shown below) will be given a name by one very lucky Show and Sale attendee. It could be you! Everyone attending will be given a chance to win this unique prize.
The Society's past President, Ray Lemieux, says, "You can name the plant after a loved one, or yourself, it's entirely up to you. Because I created a new cultivar by cross-breeding, I have the right to name it after anyone I choose. It's a hardy cross, so I suspect it will produce many offsets and who knows, it might live on forever."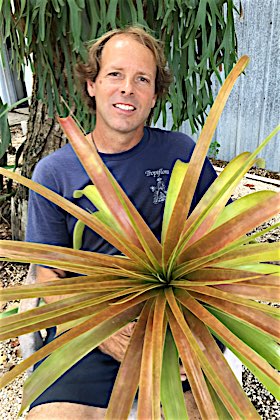 Ray Lemieux with the plant that could bear your name.
For more details about the Show and Sale, visit our Shows page.
Meeting Dates: 2016
7:30 pm, Monday, January 11, 2016
7:30 pm, Monday, February 8, 2016
7:30 pm, Monday, March 21, 2016
7:30 pm, Monday, April 18, 2016
7:30 pm, Monday, May 16, 2016
7:30 pm, Monday, June 20, 2016
7:30 pm, Monday, July 18, 2016
7:30 pm, Monday, August 15, 2016
7:30 pm, Monday, September 19, 2016
7:30 pm, Monday, October 17, 2016
7:30 pm, Monday, November 21, 2016
7:30 pm, Monday, December 19, 2016