You Are Invited
Visitors are always welcome at all Bromeliad Society meetings and events. Please see the "Join Us" box for more information.
Holiday Party!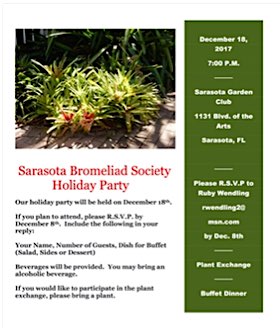 Click the image above to see all the details in a larger view.
December 18th festivities include dinner and a plant exchange. You will have a great time! Please follow the instructions on the flyer avove to RSVP by no later than December 8th.
Meeting Dates: 2017
7:30 pm, Monday, January 16, 2017
7:30 pm, Monday, February 20, 2017
7:30 pm, Monday, March 20, 2017
7:30 pm, Monday, April 17, 2017
7:30 pm, Monday, May 15, 2017
7:30 pm, Monday, June 19, 2017
7:30 pm, Monday, July 17, 2017
7:30 pm, Monday, August 21, 2017

7:30 pm, Monday, September 18, 2017

7:30 pm, Monday, October 16, 2017
7:30 pm, Monday, November 20, 2017
7:30 pm, Monday, December 18, 2017