You Are Invited
Visitors are always welcome at all Bromeliad Society meetings and events. Please see the "Join Us" box for more information.
2016 Holiday Party
The final meeting of of 2016 was a Holiday Party for the members of the Society. Here are few of the many wonderful moments of that evening.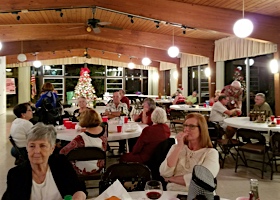 Merry-makers enjoying each other's company.
David Glosser (Past SBS President) thanks the 2016 Officers for their hard work.
Ray Lemieux enjoys the Holiday Buffet.
Meeting Dates: 2017
7:30 pm, Monday, January 16, 2017
7:30 pm, Monday, February 20, 2017
7:30 pm, Monday, March 20, 2017
7:30 pm, Monday, April 17, 2017
7:30 pm, Monday, May 15, 2017
7:30 pm, Monday, June 19, 2017
7:30 pm, Monday, July 17, 2017
7:30 pm, Monday, August 21, 2017
7:30 pm, Monday, September 18, 2017
7:30 pm, Monday, October 16, 2017
7:30 pm, Monday, November 20, 2017
7:30 pm, Monday, December 18, 2017