World Conference 2022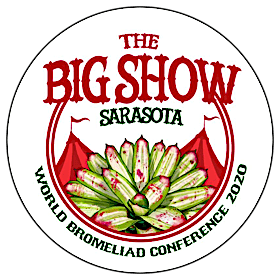 June 8-11, 2022
2022 BSI World Conference
Sarasota Hyatt Regency [ link ]
1000 Blvd. of the Arts, Sarasota
As Conference Hosts, we have planned tours of two of the world's leading Bromeliad nurseries (Michael's Bromeliads and Tropiflora), a visit to the renowned Marie Selby Botanical Gardens (with free admission for conference registrants), a number of notable speakers, an opening conference reception and welcome address, a banquet with a rare plant sale and auction, a plant sale with numerous sellers, a fantastic judged plant show, and more.
Links For More Information:
The BSI Conference Page [ here ].
Our recent newsletters contain many important details about registering, hotel discounts, daily conference schedules, the speakers list, and how to enter plants in the show. All of our newsletters are available [ here ].
There are several ways you can participate as a volunteer. Please visit our volunteer signup page [ here ].
---
You Are Invited
Visitors are always welcome at all Bromeliad Society meetings and events. Please see the "Join Us" box for more information.
Meetings: 2022
6:30 pm, Monday, May 9, 2022

This meeting will be in the Great Room at Marie Selby Botanical Gardens.

Dr. Terrie Bert
will present:

"Entering Plants In The
BSI World Conference Show

Terrie will explain the point scoring system for judging bromeliads at a show. She will discuss what you should look for when choosing a bromeliad for the show and how to prep your show plants so they can get the maximum number of points possible. She will bring different species and hybrids from common genera to use as examples during the presentation.

Terrie is a Master Judge, instructor for the BSI Judges School and Co-chair for the Judged Show at the 2022 BSI World Conference. Her presentations are always fun and educational.

---

6:30 pm, Monday, Apr. 11, 2022

This meeting will be in the Great Room at Marie Selby Botanical Gardens.

Richard Poole
will present:

"2022 BSI World Conference — Agenda Of Events"

Richard is Co-Chair of the 2022 World Conference. He will go over all of the activities that are planned for this year's conference. He will also highlight the areas in which volunteers are needed. ( We have published more information about volunteering in our April Newsletter, available on our Newsletters Page. )

---

6:30 pm, Monday, Mar. 14, 2022

This meeting will be in the Great Room at Marie Selby Botanical Gardens.

Mike Michalski
will present:

"Hybridizing Bromeliads"

Mike is an active member of the Bromeliad Society of South Florida and the Florida Council of Bromeliad Societies. He was a boat captain and orchid grower before he started growing bromeliads about 30 years ago. He began hybridizing bromeliads 15 years ago. Now Mike spends much of his time and garden space on hybridizing bromeliads. He will have plants available for purchase at the meeting.

---

6:30 pm, Monday, Feb. 14, 2022

This meeting will be in the Great Room at Marie Selby Botanical Gardens.

Terrance Hoffman
will present:

"Ray Coleman: A Passion for Hybridizing"

Ray Coleman was admired as much for his character as he was for his amazing hybrids. Terrance will be bringing several of Ray's hybrids. He will have a few of them for sale as well as other bromeliads from his collection.

Terrance Hoffman has had an interest in bromeliads for over 50 years. Originally from Pennsylvania, he moved to Florida in 1981. After retiring in 2002, he turned his energy to his 50-year hobby of growing bromeliads. He has developed about 38 hybrids, 18 of which have been registered. You don't want to miss this!

---

6:30 pm, Monday, Jan. 10, 2022

This meeting will be in the Great Room at Marie Selby Botanical Gardens.

Jason Mellica
will present:

"Techniques for Mounting Stoloniferous Bromeliads on Driftwood"

Note: Masks will be required at the meeting. With the recent uptick in Covid-19 cases we are asking that everyone wear masks at the January meeting. Thank you very much for your consideration and cooperation.

---
Bromeliads, Mosquitos,
and The Zika Virus (??)
Is it safe to grow bromeliads? The Florida Council of Bromeliad Societies says "Yes, bromeliads are safe to grow!". You can read the Council's full report about bromeliads and mosquito bourne illnesses here: www.fcbs.org - Bromeliads Are Safe