2022 Special Event:
BSI World Conference
Hosted By Sarasota (Us!)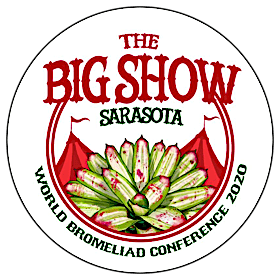 June 8-11, 2022
2022 BSI World Conference
Sarasota Hyatt Regency [ link ]
1000 Blvd. of the Arts, Sarasota
As Conference Hosts, we have planned tours of two of the world's leading Bromeliad nurseries (Michael's Bromeliads and Tropiflora), a visit to the renowned Marie Selby Botanical Gardens (with free admission for conference registrants), a number of notable speakers, an opening conference reception and welcome address, a banquet with a rare plant sale and auction, a plant sale with numerous sellers, a fantastic judged plant show, and more.
Links For More Information:
The BSI Conference Page [ here ].
Our recent newsletters contain many important details about registering, hotel discounts, daily conference schedules, the speakers list, and how to enter plants in the show. All of our newsletters are available [ here ].
There are several ways you can participate as a volunteer. Please visit our volunteer signup page [ here ].
---
Events: 2022 Calendar
June 8 - 11, 2022
World Bromeliad Conference
The Hyatt Regency Sarasota — 1000 Blvd of the Arts
See the "Special Events" section at the top of this page for details and useful links.
---